Green F. Sandlin
Jailer & Lawman - Indian Territory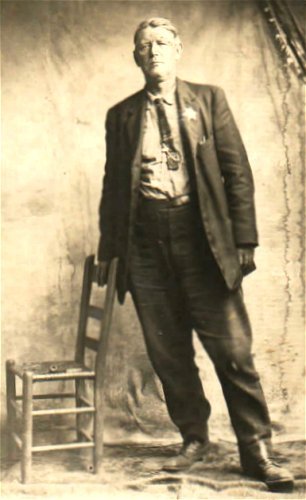 © 2000-Present Sally Sandlin Gill - Granddaughter
This information given to Sally Sandlin Gill by her father, Earl Sandlin, son of Green SANDLIN and Marovia Bavaria (McCARTY) SANDLIN in 1977.
Green Sandlin sold his farm in Tupelo, Miss. around 1893 and moved his family to Red Oak, Indian Territory in a covered wagon. Green was engaged in farming at this time. The Sandlins left Red Oak in about 1908 for Wilburton, Oklahoma, which was about 20 miles north of Red Oak.
While living in Wilburton, Green Sandlin was a jailer and in law enforcement for about six years, which was very dangerous work at that time due to outlaws using Robber's Cave north of Wilburton for a hideout.
I recall an incident where he brought an outlaw from Robber's Cave who had been killed to Wilburton in a wagon. The outlaw was never identified and I recall his body was in a wooden box leaning against a wall at the funeral home for several days and you could see him by looking through the glass window.
My Dad said Green was a deputy in Wilburton.

Back to previous page