George Clingman Hensley - County Sheriff
Jackson County, Oklahoma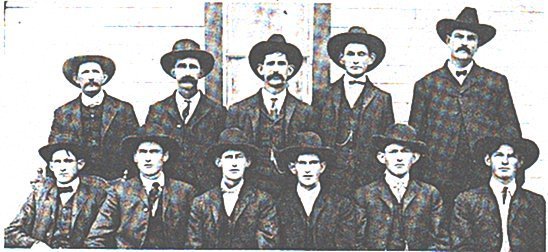 Submitted by: Brenda Normandin
George is top row on the left.
George Hensley was born 20 September 1866 in the vicinity of Day Book Post Office, Yancey County, North Carolina, the oldest of fifteen children. George was the son of Goodson McDaniel Hensley and Myra Byrd Hensley. The Hensley family moved from North Carolina to Arkansas when George was two years old. From Arkansas, the family moved to Texas and then to Greer County, Oklahoma Territory in 1891 where they settled in Victory and later homesteaded south of Olustee.
George married Annie Light, the daughter of James Young Light and Lucinda Cannon Light of Fannin County, Texas, with whom he had thirteen children.
In July of 1908, the first election after statehood was held in Jackson County and George was elected County Sheriff. Several years later, George and Annie moved to Mineral Wells, Texas, where again George served in law enforcement for many years.
George Clingman Hensley died on 21 July 1952 in Mineral Wells, Texas at the age of 85 years.


Back to previous page