Born to James and Sarah Anna Cantwell Jan 27 1862 in Waco Texas.
Appointed by JJ McAlester out of Muskogee IT for a 6 month term in June 1896.
view appointment certificate
He served longer than that out of both Ft Smith and other areas in the Indian Territory, but have not found any other appointment certificates.
In 1904 he married Julia Brashears at Ada IT
and farmed in the Elmore City area until his death Jan 28 1940.
Buried in Rosedale Cemetery, Ada OK.
According to an oral history left by Dr OL Parsons of Lawton Oklahoma:
Calvin Price Cantwell's brother "James Riley Cantwell was deputized out of Ft Smith (US Court) and sent to Indian Territory to serve arrest warrants. He was lungshot and left for dead. Two young Indian men found him and carried him to Ft Smith. He was treated for several months, but soon died from his wounds."

Burial record says James died of 'pulmonary absess'.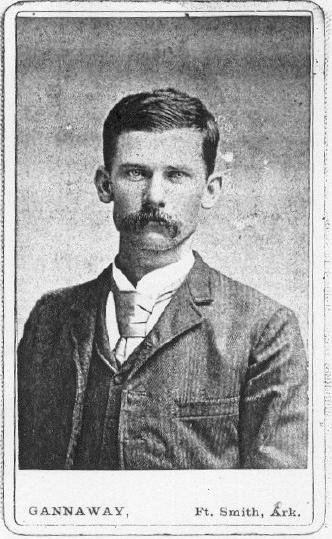 James Riley Cantwell, born in Parker Co Texas June 15 1859.
Married Elizabeth Ann Partain in 1884.
He died April 27 1894 and is buried in Oak Cemetery, Ft Smith Arkansas.

Appointment Certificate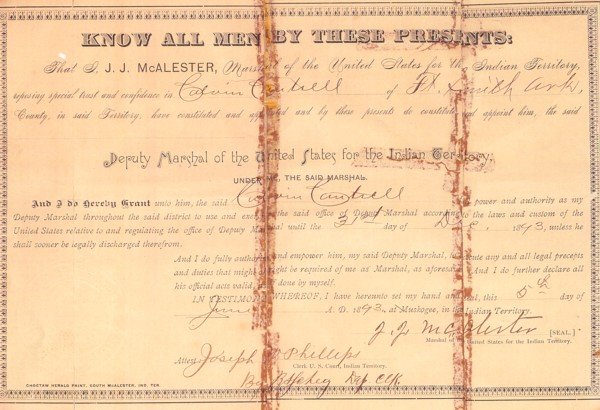 Back to previous page